Researchers of Vermont ancestors are fortunate to be able to access comprehensive vital records online for people who were born, married or died in the State of Vermont. I find these records invaluable in research of my own Vermont branches, and feel this would be a good data collection for me to provide examples and tips for better searching, analyzing and recording these types of sources.
Series Goals:
When you are finished with this series I hope that you will be able to do the following:
Understand what is contained in each of the databases consulted and the provenance of the data and/or images within it, as well as the provenance of the online database itself.
Search each database thoroughly and accurately.
Understand the data contained on the images (if included) and analyze them for further research possibilities.
Accurately and precisely cite each source.
Understand the QUAY value for each citation you are inputting.
Even if your research doesn't involve Vermont ancestors I believe you can learn from this series of posts on how to better organize, collect, record, analyze, and craft your genealogical research.
Records Consulted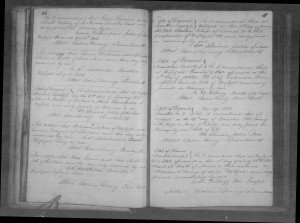 In order to better understand the sources that we record we should also conduct some sort of preliminary research on the type of record we're investigating, especially the laws surrounding legal events. This would normally be an earlier part of my genealogical research cycle when I locate the records needed to help support a fact, but since we'll be jumping to the specific databases, I want to share the provenance of each source you'll be searching through.
The first part of this series investigated the laws required of Vermont towns and counties in reporting these vital events over history. I can now use this information to better understand the individual provenance of each database and to better analyze the QUAY value for each specific source cited.
In conducting research for this post I looked at the Vermont Vital Record databases located online at three locations: Ancestry, FamilySearch, and NEHGS (New England Historical and Genealogical Society). I did this in order to understand the differences (if there were any) between the databases and images at all three locations, and to share with you my source analysis for each database found. Two of the websites where these records can be found at, are subscription based (Ancestry and NEHGS). Only one website has consolidated all of its data into a single database, and that is the NEHGS. On each database page I will also share with you methods of searching, collecting, analyzing, recording, citing and interpreting records found within each database. Each method will be found under it's own heading on the page for quick reference.
I will provide a link below to each new post in this series as I add them. Please bookmark the page, or add your email to the newsletter on the right to be notified by email.
Family Search Databases
Vermont, Deaths and Burials, 1871-1965 – 74,099
Vermont, Marriages, 1791-1974 – 15,363
Vermont, Vital Records, 1760-1954 – 2,327,930
Vermont, Vital Records, 1760-2008 – 1,974,198
Vermont, Town Clerk, Vital and Town Records, 1732-2005 – Unindexed*
Ancestry Databases
Vermont, Vital Records, 1720-1908 – 1,426,900
Vermont, Birth Records, 1909-2008 – 506,711
Vermont, Marriage Records, 1909-2008 – 1,362,971
Vermont, Death Records, 1909-2008 – 960,913
Vermont Marriage Index, 1981-1984 and 1989-2001 – 200,634
Vermont Death Index, 1981-2001 – 101,438
Vermont Births, 1981-2001 – 152,064
Vermont Divorce Index 1981-1984 and 1989-2001 – 88,920
NEHGS Database
Vermont Births, Marriages and Deaths to 2008 – 4.3 mil